DIN 6796 standard
Scope and application
Spring washers described in DIN 6796 standard are circular conical washers which offer resistance to compression in the axial direction. Its elastic capacity is intended for offering clamping/crushing load in the displacement direction. They are not designed to withstand dynamic loads.
DIN 6796 standard defines the characteristics for this type of washers in terms of dimensions, tolerances, loads and materials.
The purpose of this type of belleville washers is to secure screw or bolt joints, maintaining constant pressure on the tightening of the pieces. For this reason, they are sometimes referred to as spring washers. Load maintained on the screwed joint by this element prevents it from being loosened, produced by vibrations or expansion due to thermal changes.
Main points of the standard
Next, the main aspects of the standard for practical purposes are detailed.
Dimensions and load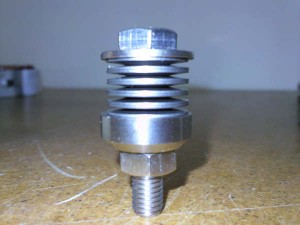 Spring washer dimensions are adapted to work with screw metrics. The standard defines the proportions for a washer with regard to thickness, height, and external diameter, for each specific metric.
The washer load according to DIN 6796 standard should correspond to the screw tightening load with resistance class 8.8 and 10.9.Usually this load is between 70% and 90% of the tightening load.
Tolerances and quality control
The standard establishes that the internal and external diameter of the piece is established according to DIN 267 part 26. Likewise, a specific maximum height of a piece is limited according to DIN 267 part 26, which can be the minimum height allowed. This minimum height is obtained in the piece after being under a crushing stress test.
Tolerances in the thickness of a piece is specified by DIN1544 for pieces which are <= 6 mm thick and by DIN1543 for pieces which are > 6 mm thick.
The quality control established by the standard for external and internal diameters, thickness and height is AQL 1.5.
Materials
According to DIN 6796 standard the usual material is C60 steel (DIN 17221and DIN 17222) with a hardness level between 420and 510 HV. Stainless steels such as 1.4568 or 1.4310 and nickel alloys such as Inconel 718 are also allowed for cases of high corrosion or temperature.
Usually manufacturers offer different types of coating for pieces which increase their resistance to corrosion.